Solarium
Ergoline 400
In our fitness centre we offer solarium ERGOLINE 400. This type of solarium belongs to the best ones on the market and fulfils all strict norms issued by the European Union. We are happy to help you with the manipulation and length of your tanning. Moreover, it is recommended to use solar cosmetics, which will protect your skin and provide you with a long lasting tan.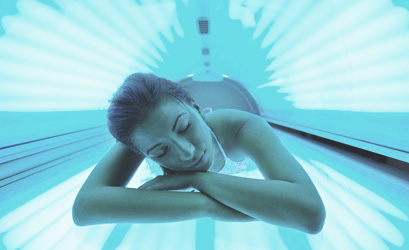 Benefits and risks of tanning in solariums!
Recently, there has been a big amount of studies, saying that artificial tanning is more dangerous that natural sunbathing. On the other hand, other studies argue that solariums may actually reduce risks of skin cancer. Also, tanning in solariums is much faster, so you spend less time exposing your skins, meaning it is healthier.
Solarium is recommended in times before going on holidays, so your skin will get used to the light and thus protect you before the sun.
Rules of tanning in solariums
Before tanning, it is important to remove make-up. as make-up closes pores of your skin and UV lights in the solarium open your pores again, which means that rays of the UV lights would penetrate into your skin, and also particles of your make-up, which may result in allergies.
It is crucial to protect your eyes - the skin of your eye lids are very thin and sensitive, so please protect them with the special glasses that we provide, and never look directly into the bulbs.
After the first visit, there is a possibility, that you might find white spots at some of the body parts, at which you lie on, and thus are less blood supplied (the are of pelvic bone, blades, elbows). You can avid this by moving yourself during the tanning.
Solarium Ergoline 400
1 minute
15 Kč
100 minutes
1 350 Kč
200 minutes
2 500 Kč
solar cosmetics
solar cosmetics
from 45 Kč
We accept credit cards.
We accept vouchers SODEXO, TICKET and UNIŠEK
Rates for multiple entry cards differ when paying noncash or with vouchers (Benefity, Sodex) as there is a fee of 10%.